Signature-Series Grande Grill Features…
Color: Black Onyx or Cottage White
Construction: Heavy-duty ceramic body with gorgeous rattan-style ceramic finish (Vision Grills Signature Series Exclusive) and heavy-duty ceramic fire bowl
Two-Tiered Cooking Grates: Cast iron 1st Tier cooking grate for superior searing with a rust and corrosion-resistant, heavy-gauge stainless steel 2nd Tier flip cooking grate, providing 806 square inches of cooking area
Grill Fuel Type: Lump charcoal or new Patent Pending 25,000 BTU Gas Insert recommended
Integrated Thermometer: Easy-to-read 1,000oF thermometer with cooking temperature zones through 1,000oF
Bottom Draft Vent: Stainless steel or black powder coat ProZone™ includes calibrated smoker and grilling control knobs, removable ash drawer, and electric starter port. Easily QuickChanged to our Gas Insert.
Top Draft Vent: Cast iron or stainless steel top vent with calibrated smoker knob and daisy wheel-style draft control
Adjustable Grill Light: LED light for late night and early morning cooks
Side Shelves: Two stainless steel or slatted wood drop down shelves for easy storage. Provides needed space for grilling accessories.
Cooking Stone: 100% Natural Lava Stone for stone cooking pizzas or to create an indirect heating environment for smoking and baking
Cover: Heavy-duty, branded, vinyl cape-style cover with velcro closure for easy on/off
Cart: Sturdy stainless steel or black powder coat cart with four (two locking, two non-locking) high-quality swivel casters with fully-enclosed cabinet for all your grilling storage needs
Electric Starter: Starter slides directly into our ProZone™ starter port for effortless charcoal lighting
Dimensions: Assembled depth: 33.9", assembled height: 47.2", assembled width: 22.5" (60.2" with side shelves extended)
Weight: 341 lbs (Heavy-duty ceramic construction)
Manufacturer Warranty: Limited lifetime for all ceramic parts; five years for all metal parts; one year for cover, temperature gauge, and gaskets; ninety days for side shelves, grilling light, Bakelite tab, Lava Stone, and electric starter. Warranty not transferable to subsequent owners.
Features, specifications, and parts may vary by retailer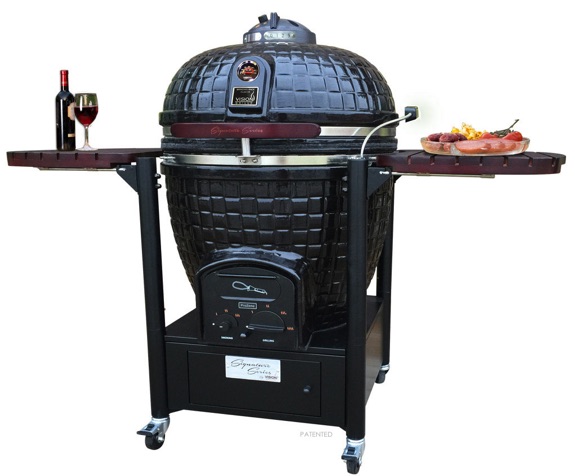 There was only one way to improve our best-selling Rendezvous – make it bigger.
The Signature Series Grande Kamado delivers the same WOW factor as the Rendezvous, but features a whopping 806 square inches of cooking area. The Grande takes grilling to new heights with its fully-enclosed XL cabinet, XL drop down shelves and our exclusive rattan-style ceramic finish. It comes fully-loaded with an adjustable LED grilling light for nighttime grilling, a Lava Stone for cooking pizzas or low and slow smoking, and a cast iron 1st Tier cooking grate for superior searing. These features plus our exclusive ProZone™ ash drawer makes the Vision Grills Grande the titan of outdoor grilling.
PATENTED

Signature Series
Grande Kamado
Vision Grills offers high-quality Kamado Grill construction,
rock-solid warranties, and U.S.-based customer service.
The Vision Grills Kamado is truly something deliciously different.